About Us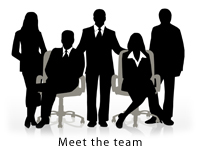 Since 1997, our experienced personnel have been producing a professionally presented Internet presence displaying products and services of Small Businesses, Corporate and Local Government to a worldwide audience.
In this time, we have developed a dynamic team of enthusiastic people who are all dedicated to servicing our clients in an efficient, yet friendly manner.
With a total of over forty years experience in the information technology and marketing sectors between them, the current team is headed up by David Morgan (Managing Director) and Andrew Speed (Operations Director).
By bringing together a wealth of experience in Marketing, IT, Web and Graphic Design, Computer aided design and production, Programming and Networking, we have formed a powerful and innovative facility.
10 Good reasons why you should choose SurCo
We will....
1) Host your website on very fast and reliable Web Servers with automated backup facilities via our partners Rackspace
2) Register or transfer an existing Domain Name for your company or organisation, offering full e-mail facilities including a minimum 1000MB Web space, 20 Mail Boxes, unlimited e-mail addresses, forwarding of e-mail to other addresses. FTP access and the option of additional Domain Names
3) Appropriately design & develop a professional Web Site offering a cost effective solution for your company or organisation with correct consideration to maximising search engine visibility and fast download speeds
4) Register your website on a monthly basis with at least ten major search engines (Free listings) to ensure the best chance of high ranking and provide online marketing statistics to monitor the performance of the site at any time
5) Provide additional online and off line marketing expertise to make your site work harder, giving a quicker return on investment
6) Provide a browser based management programme (administration centre) giving access to the following services:

Web Content Management System - offering easy maintenance of regularly changing site content i.e. price changes, special offers, add new products, job vacancies If you can use MS Word you can use our CMS!
Comprehensive web site performance monitoring (visitor statistics)
Mail Manager - integrates with your website via opt-in form submission or order process providing a database of clients/contacts for future marketing purposes
Site Survey - for easy analysis of website feedback via a rich graphical user interface thus allowing informed decisions regarding future site development to be made quickly
PostCode Anywhere - speeds up the process of online form completion, ultimately increasing enquiries & orders!
Web Mail - web based email for those on the move
SureLinks - automated broken link checking facility ensuring there are no bad links on your site
Access to any additional services - e.g. Online Support, database administration, document management, online calendar & web telephony

7) Send regular Newsletters keeping you up to date with what is happening on the Web
8) Offer bespoke programming, giving the ultimate flexibility i.e. integration with existing in house systems, database development and web add-ons such as affiliate commission programs
9) Provide true e-commerce incorporating Secure Server facilities and Digital Certificates for real time Credit Card Transactions and sensitive data transfer
10) Our unrivalled level of service and technical support via e-mail, freephone and freefax offering one main point of contact for your online requirements
You may have noticed from the above that we include features such as a browser based management system which gives you the control referred to earlier in this mail. We also offer a superior support service via email, Freephone and Freefax as we consider ourselves as technology partners as opposed to just another supplier, thus having a vested interest in your online success.
Costs
We offer annual renewable contracts which start from £4800.00 (Subject to VAT) for premium quality 'Managed Services' including the features and benefits above but we will need a brief or meeting to discuss your exact requirements further, to ensure your main objectives are achieved.
Domain Name Registration & Web Space
To register a Domain Name and thus reserve it for your use, the cost is from just £25.00 for two years.
Please note: The registration of a single Domain Name is included in our Project Specification and we will advise availability of your choice and confirm this is registered to you normally within 48hrs.
If you'd like to contact us, you can email us directly from this screen by clicking on the email address below, select the contact form link or alternatively, you can call us direct on the numbers listed to request further information or click here for a free direct call.
Contacting Us
To find out more about who make up the team, what we do, and where we are located, please click the links below or tour our portfolio to see some of the solutions we have provided to current clients.
Latest Blog Post
{dynamic blog feed title here}
{dynamic blog feed latest blog date}
{dynamic blog feed content here, latest post}