14 Jul

Newsletter June/July 2011 Issue 80

We have just recently launched our new look website.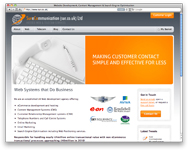 Our site now encompasses the web based telecom services we offer, alongside our existing web development services, following a recent acquisition.
If you are looking for informed advice, proven and reliable mission critical web development, hosting, & support for your online presence then look no further.
If you are thinking of a dedicated telephone number for web orders or enquiries to accurately measure performance, take a look at www.sur.co.uk/telecom
Please also refer to 'Essential tools' below and our Blog.
I hope you enjoy this update and welcome any feedback you may have.
Read the full version of the newsletter here.
Regards

David Morgan
(Managing Director)