22 Mar

Google Shares New Marketing Tool Called Think Insights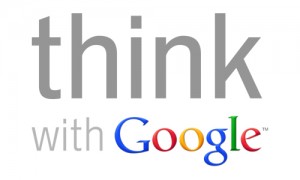 Google is the ever expanding, ever developing and ever evolving powerhouse of the internet, and they are switching things up to bring new tools to the fore once again.
Google now want us to 'think' with them, and as they are currently the leading search engine in existence it's probably a good idea that we do.
The people responsible for "The Google Think Quarterly" which showcases digital influencers and marketing leaders, have recently launched their new marketing tool called Think Insights.
This new online destination is a one stop shop for marketers, advertising agencies and advertisers. It provides information on the latest industry research, marketing insights, consumer trends, interviews with experts and innovators; planning tools and emerging digital trends.
Think insights features six sections including;
Marketing Objectives
Ad Types, Industries
Creative Sandbox
Perspectives
Products and Tools
Within the Perspectives sections you will find valuable information from leading industry experts. Each article that you read is specifically created for you to help arm you with the latest insights in today's marketing world, constantly keeping you up to date with this ever changing industry.
If you need information fast then the "Real Time Insights Finder" tool is perfect. This is where you will find emerging trends and valuable consumer insights within your chosen industry. For example if you were looking to find out what video is most watched amongst 25-34 year old males in the U.S and Italy then you would find that Official Call of Duty, Modern Warfare 3 game trailer is the information that would come up.
Within the Products and Tools section there is a wide range of information that will help you leverage Google's digital products which can definitely help you take your business to the next level.
For example the Planning tools that are available are Real -Time Insights Finder, Our Mobile Planet Tool, Brand Impressions, GoMoMeter, Google Consumer Surveys, Consumer Barometer, Google Trends and Mobile Ads Showcase App.
There's also an area where you can watch webinars, research relevant information, check out interviews and find out key statistics for your relevant industry. Each week Google will be posting new features that will go into detail about the latest important topics for marketeers.
If you haven't already you can sign-up for Google's Think Letter which is a monthly newsletter of all the Think Insights most popular content.
The Creative Sandbox section within Google Insights includes a showcase of all of the latest digital information, including ad campaigns that are in development, and you can even submit your own campaigns for review.
Google Insights is an invaluable tool for every business because you are able to access insightful information and up to the minute news all in one place.
This is another outstanding project by Google to position itself as a world class thought leader to all of its followers and advertisers.
At SurCo we always ensure we have our finger on the digital pulse and have been utilising information sources such as eConsultancy for several years, but we view this new information source from Google to be an invaluable addition to the pack.