03 Jul

How to Use PPC Data to Maximise Your SEO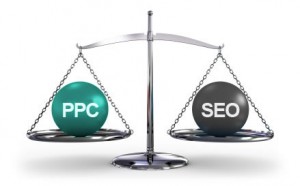 SEO and PPC have been used to boost internet marketing efforts for a great many years, but this has generally been executed as two separate strategies. Did you know that if you use your PPC data to enhance your SEO efforts you can greatly maximise your potential.
Instead of thinking of these two internet advertising tools as separate entities, when you combine them in your 'search' efforts they will give you an edge in your search campaign.
Running and monitoring your PPC campaign provides you with valuable insight into what people are searching for (and more importantly clicking on), and when you have that information at your fingertips you can use it in your SEO campaign and take a holistic approach to your search marketing.
When you're able to dominate the search listings in this way, with greater visibility you become a trusted brand, which naturally increases traffic to your site/s because when your name appears consistently high in the search rankings this places more trust in the eyes of your audience.
Follow these tips to use your PPC Data and maximise your SEO efforts…
> Review your entire keyword list which you're using for your PPC campaign.
> Cherry pick the ones which are converting the most for you and are receiving the most click throughs. This will enable you to really pinpoint the terms which are working for you on the PPC and make them work for you on your SEO.
> Look at the whole picture with your PPC, take into account any landing pages you created specifically for your campaign and make sure you create your SEO campaign with the user in mind. Ensure your pages are in direct correlation of the search terminology.
> Utilise your successful keywords in the meta description to ensure they also appear in the SERPs (search engine results page).
> Always follow best practice for search engine optimisation when you're choosing the data to use from your PPC campaign. Create the content with your audience in mind focusing on providing information rather than a whole host of your keywords or salesy content.
> Regularly review your PPC data and apply the top click keywords and phrases to your SEO campaign. Everything needs refreshing after a while and this is certainly the case with your search marketing efforts.
PPC provides you with the opportunity to try, test and assess what works allowing you to be reactive and target competitor brand terms. When you use this information for your search engine marketing you give yourself double the opportunity to gain the most out of your online marketing efforts.