11 Aug

New Buy Button on Facebook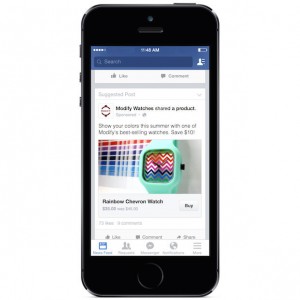 An exciting new online retail tool is being tested in America, and if successful will be rolled out across all countries which will have a huge impact on businesses across the world.
Facebook have introduced a new 'buy' button for products advertised on the news feed which allows customers to buy a product directly from a retailer without leaving Facebook.
The social media platform have stated that all purchases will be made safely and securely without ever having to store any details online should the purchaser not want to.
eMarketer have predicted that US online retail sales will make over $3 billion in 2014 alone. Now is clearly the right time for Facebook to be encouraging more sales through their online platform.
This is a big move for Facebook who clearly want to establish themselves within the ecommerce market as other social media platforms have started to do. The likes of Amazon have already launched a service which allows twitter users to add products to their shopping basket by simply using a twitter hashtag.
Facebook has been enabling big brands and SME's with big marketing budgets to build awareness and develop engagements for a while now, but this next step takes them directly into the sales market which will take the platform to a whole different level.
Consumers no longer want the hard sell which is why there are now apps and software to help them block ads in their news feed, and why 'if you like it then you can buy it' form of advertising is a winning solution.
If you've ever dabbled in Facebook advertising you will know it's currently very hit and miss and you need a fairly high budget to be able to see what works and what doesn't. A lot of SME's don't have the budget, staff or time to be able to test the water in this way, so the new option of encouraging direct sales without having to come off site will undoubtedly be a welcome option.
Another added bonus to Facebook's latest eCommerce adventures is the ability to create multi-product adverts. The three ads display system allows the brand/business to show 3 separate products in a single ad with a side-scroller. Each product has its own description and call to action creating a mini shop within the app.
Since its foray into commerce, Facebook has been trying lots of different angles to see what worked.
Some have clearly not worked and fallen by the wayside, which is no different to any other business, but it does feel now like they are truly onto something which will, in the long run, be a great benefit to sellers and consumers alike.