03 Dec

Black Friday and Cyber Monday 2014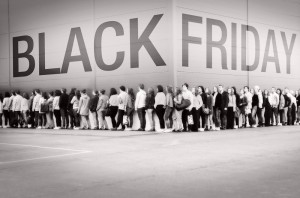 Did you cash in on the Black Friday sales of 2014?
UK shoppers truly got to experience this year an event that's been big in the USA for many years. It's seen in America as the start of the Christmas shopping season and has been around since the 1960's with retailers opening their stores as early as 4am to get themselves out of the red and into the black.
It's not without its controversy because with this many people wanting to 'bag a bargain', some shop front stores found it impossible to cope with demand and some online shops ran into a multitude of difficulties causing websites to crash and sellers to lose out instead of making more.
The first Black Friday event in the UK was actually way back in 2003 but 2013/14 saw a surge in UK stores getting in on the action and sadly police had to be called to many stores throughout the UK to control crowds who were a little over keen to get a sale item or 3.
This 4 day long event is now a billion dollar business and spans across the entire globe both online and offline.
Following Black Friday is Cyber Monday which is when online retailers (or anyone with access to the internet and a desire to sell something in some cases) goes online to offer amazing deals you can't get at any other time of the year.
In 2014, Black Friday increased online traffic by a whopping 488%!
In the UK alone on Black Friday, sales soared by 37.5% and spend was an estimated £810m.
Amazon had 64 transactions per second on the Friday but just a few days before, some of their sellers suffered great losses as Amazon's RepricerExpress software experienced a mega glitch and priced many items at just 1p!
All of SurCo platforms are hosted by the mighty Rackspace because in order to provide the best, we have to be supported by the best.
Benefit from the ultimate scalability and flexibility for your site or platform which enables it to handle peaks and troughs whilst sustaining quick page loads and the highest level of security.
Black Friday 2015 is on Friday 27 November. Whether you're a retailer or a consumer, be prepared!