28 Apr

Website Development Lowdown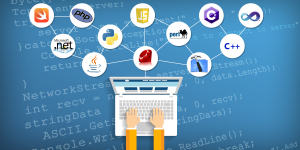 Website development is a passion for us because it's how SurCo started way back in 1997. It's hard to believe we have now been providing business solutions for 20 years, especially as we love what we do so much it feels like much less.
Although we have added several complimentary services to our portfolio of what we offer clients including email marketing, CRM, telecommunications services, and hosting, website development is at our core and it's helped us deliver huge benefits to many businesses across the UK.
We love bringing ideas to life on the web and keeping up to date with all the latest technologies, it's our passion and vocation, which is why collectively we have over 40 years of experience in website development and digital communications.
The rapid development of technology since we launched Sure Communication has required us to continually learn and keep up with client needs taking into account the developments in devices, platforms and coding languages. Website development is a skilled job which requires a lot of patience because there's so much time taken to not only make it work well from the back end but make it look good and be functional from the front end.
Creating a basic website is a reasonably simple thing for the general public these days because of the likes of WordPress, Squarespace and Wix offering a simple to use drag and drop service with added plugins and widgets that do most of the work for you.
However, from a website developer point of view, it's not quite that simple!
There are multiple coding languages used by developers to design a website and each of them bring their own challenges, it's no different to learning to read and write a foreign language which takes time and practice to get perfect.
Just because we can speak English and Japanese, doesn't mean we automatically understand Dutch. The same goes for computer programming languages, just because we have learnt three or four, doesn't mean we know them all off by heart. Code for most developers is a passion though, so we want to know how each one works and how that will influence the inner and outer workings of a website.
Budget often dictates how intricate a website build is. An entirely bespoke build will command more skill, design and time which is why the level of spend tends to be higher on this type of site. Other websites that are developed from a pre-existing framework are less fiddly one might say which greatly reduces the cost.
Design, content and third party APP integration are also factors which need to be considered when building a website.
Despite the huge amount of website templates available on the internet today, no two websites are the same. A good developer will work with the client to determine their specific needs and carry out the work in the most effective and efficient way to ensure a good delivery time at the right price.
Developing a bespoke ecommerce website is even more challenging and requires a great deal of skill, time and patience to ensure all elements are working in sync prior to launch and ongoing.
We love developing so much at SurCo that we developed our own email broadcasting system and our own Customer Relationship Management (CRM) system and that's just to name two, the rest are behind the scenes development programmes which help us work even more efficiently for our customers.
We're fascinated (and some might say obsessed) with all forms of digital communication and creating systems that help businesses do better business which is why we've been providing these services for 20 years now.
If you are in need of website development services, an ecommerce website, a CRM system or all of the above working in harmony as one, please get in touch and we'll be happy to give you the website development lowdown over a cup of coffee.