03 Nov

It's our 20th Birthday – Thank you for sharing our journey

I am extremely proud to say that Sure Communication (SurCo) is now in its twentieth year of Web Development, Hosting, Online Marketing together with VoIP Telecoms provision and would like to thank all of our clients for your continued custom.
It has and continues to be an exciting journey and we still love the way we work and the different challenges the technology industry brings each and every day.  One thing stands out in the work we are heavily involved in now and that is integration is key.
Back in 1997 I remember the initial meetings with prospective clients, discussing how the 'World Wide Web' was going to revolutionise the way we do business in future and getting some disbelieving looks, followed occasionally by being ushered out the door with attendees completing their checklist as having looked at the Internet and deciding it wasn't something that would catch on! They were understandably cautious.
A good number of customers signed up in those first few months, many of whom are still with us now.
Then the banks joined the party and it was full steam ahead. Even the changes we have experienced, not only in business but with the emergence of social media platforms as the web matured, have gone beyond my initial expectations!
Having started with website development, then incorporating our own Content Management System (CMS) as many were asking for it, we must remember this is well before the days of WordPress. Our web services then extended to web-based Customer Relationship Management System (eCRM) with integrated VoIP telecoms, following the purchase of a specialist telecoms company in 2011.
20 years in, here we are working with large and small organisations alike, commitments exist to long-term working relationships with many of our clients. Some of the more well known names are Morgan Motor Company as we continue to provide the web-based Global Dealer Sales Portal beyond 2020, as it completes integration with a new Enterprise Resource Planning System (IFS) in 2018.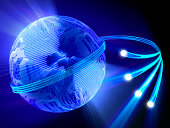 Having worked with Sky Insurance Services Group since 2005 their business has grown exponentially since, with the concept of purchasing short-term insurance online (with insurers removing the automatic right to drive another persons car) Insuredaily.co.uk was born. Our insurance quote engine powers the site and other related sites, which have matured and evolved in a number of different guises producing an overall online revenue of 1.6million a month.
Telecom services are now supplied to EON as well as full VoIP telephone integration with our eCRM to many other customers.
Working with technology and great clients has been a privilege that I and my colleagues do not take for granted, but what next?
Having just ordered my groceries via Alexa (Amazon) by a simple voice command, paid for my fuel using a smartphone and also recently tested some very exciting connected car tech…
Here's to the next 20 years and the wonders it will hold.
For further information relating to the above please make contact
To read about how digital has evolved since we started Sure Communication back in 1997, click the link here: www.sur.co.uk/evolution-of-digital