26 Jul

Voice search is the future or is it?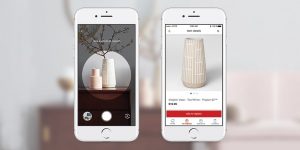 Voice search is the future or so we're told and indeed also believe, at least it has a part to play in the ever developing world of digital search.
It's clear that this type of search is already having a big impact on the way we obtain information and communicate with technology, but how is that going to impact us and develop further in the future and what can we do to ensure we benefit as business owners?
It is predicted that by 2020, up to 50% of internet users will be using voice search as well as traditional search. As the numbers increase of people owning smart speakers at home and the office, it's inevitable that mobile voice searches will start to decrease but that's a way off from now.
Visual search is now a thing and will continue to develop further over the coming years no doubt, but in truth, no one can predict how quickly this will take off because this type of online search is still a work in progress.
If you're wondering what visual search is we're here to help answer that for you.
Visual search is the ability to upload an image into the search app or platform and have the technology deliver the information you require from that image.
Sometimes it's difficult to describe to the search tool using words exactly what it is you're looking for. If you upload an image of an item of clothing, the tool will then search its knowledge bank for that item or similar and then deliver results on what it is and where you can purchase it. The same applies to a landmark or a place, you can discover the details on either just by uploading an image.
Pinterest has a visual search tool called Lens which is now reported to perform 600 million searches every month and those numbers have increased over 140% since its launch in Feb 2017!
As well as Pinterest, another popular visual search app is CamFind which is available on both iTunes and Google Play. Microsoft have developed their visual search tool on Bing and Google have an app available for download on Google play which is called Google Lens.
This technology is a long way off from being perfect because it's so new, so don't expect perfect results yet regardless of what platform you use!
We were talking about voice search and have now gone on about visual search but it's all relevant to the big picture (pardon the pun), this is the way search is moving so it's important to ensure you're onboard with all the latest developments, especially if you run a business and marketing is important to you!
Humans aren't always accurate, we all make mistakes and typos, so it stands to reason that the technology we produce isn't 100% accurate whether that's voice or visual search. Although a typing error can easily be rectified, a verbal request has to play out the incorrect response before you can ask again and it still may not be interpreted right the second, third or 4th time which can be infuriating!
The other downside to voice search despite its current inaccuracy is that a lot of people have become visual responders, therefore we need to see to believe or to fully comprehend. Most of us would want to see a recipe, perhaps watch a video with the ability to pause rather than just listening to verbal instructions.
Mobile voice search isn't huge either right now but the popularity is growing steadily so it's worth bearing this in mind too as we go through into 2019.
Voice search on a mobile will likely be most beneficial to those who have a business accessible via mobile either through a mobile ready website or an app, and voice search is really going to get a lot of usage by those who spend a lot of time in their cars and want the ability to ask questions such as directions, make a call or switch on the heating if it's all set up for smart home control.
Here's our top tips of what to do to help your business be better prepared for voice search and increased SEO ranking on Google and the like:
Is your website Schema ready? If not it really should be so speak to your web developer or 'marketing techy'. Schema markup enables Google to bring up more specific elements of your website and business such as opening times, contact details and so on, this is ideal for voice search queries and also provides an improved ranking on Google especially if you're a local business.
Ensure your responsive and mobile ready website has an easy to use navigation and isn't cluttered or slow to load, this will also help with Google rankings especially on mobile which is very important now they have introduced their need for speed algorithm in this area!
You can optimise your content for mobile search too, all you have to do is ask a question that someone would ask such as "what is voice search?" or "how do I make my website faster?", the answers you give either in a blog or a within a specific page on your website that answers Q's will help ensure your content is shared in voice queries.
Your answers just need to be to the point but informative enough to actually give them an answer.
If you have any questions about how this developing technology can help boost your business then please don't hesitate to get in touch with one of our team to discuss your options with us.