12 Feb

An Insiders Perspective of SurCo CRM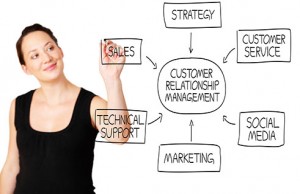 Having recently joined the team, we asked Vicky Galdeano to give us her inside perspective on why she believes every company should have a CRM and why the SurCo Customer Relationship Management system is worth investing in.
Here's our insiders perspective of SurCo CRM:
In my many years within sales, I have learnt that behind every successful business is a precise marketing strategy…
This is truly unachievable without a good customer relationship management system in place to effectively monitor every step of the sales pipeline with ultimate efficiency.
I have used many CRMs and databases in my time, but until now I had never found one that does it all. Quite often the need to use more than one system arises, or you find that what you were told the system can do is not actually achievable.
Some companies choose to opt for a bespoke system built in house, but this can cost thousands and can quite often absorb the entire marketing budget! The end result is a system that doesn't fulfil all the company requirements, but because it cost so much the company feels obligated to persevere. It also creates limitations on its adaptability which means that every time something needs tweaking or updating, the maintenance becomes costly.
SurCo CRM system has been developed to include all of your individual company criteria which enables you to have a bespoke CRM without the hefty price tag. SurCo take pride in delivering a detailed initial set-up and work closely alongside you until the finished product is in place and does exactly what you need it to do for yourself, your team and your customers.
Providing good customer services is vital to the success of your business and giving you that same level of customer support is of paramount importance to us too. We ensure your SurCo account manager is always available to speak to as we provide on-going CRM support. We also provide a ticketing service which allows you to request changes and upgrades at the click of a button.
SurCo CRM enables you to follow the sales process from the initial contact right through to the order stage. Once the lead is converted into a customer, the system allows client management, customer invoicing and much more. This CRM can be plugged in to your website, allowing new leads to be imported and payments to be processed. Providing your customers and client's with a consistent service from start to finish.
Imagine a system that allows you to use it as your only office software, which even goes as far as helping you make telephone calls directly from the system. Features of our unique system include all manner of correspondence – from emails and letters, to text messages and appointment reminders.
Other key features include website management, the generation of bespoke sales reports via lead type and the streamlining of your sales order processes, leading to higher productivity and enabling you to follow every lead closely and efficiently through every stage of the sales pipeline.
I am confident that this system can help run any business and that you will find it an invaluable sales tool.
It's a superior way to manage sales and achieve targets. Nothing comes close to our user – friendly and cost effective bespoke CRM. In fact, I challenge you to find something that it can't do. If you do, let us know, and I'm sure our development team will make sure it is achievable using the SurCo CRM in no time.
For further information, free trial or demonstration, just give our friendly customer service team a call.