26 Feb

Say Goodbye to Email Overload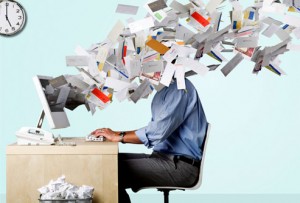 It is staggering to learn that most Managers are spending a whopping 30% of their time wading through emails!
A lot of other time is spent in meetings which studies show is largely a waste of valuable hours that could have been used for more productive tasks.
Email providers all have their benefits but they also have immense limitations.
Using a system with integrated technology can help you cut down on duplication of effort, streamline and automate all of your processes (not just email handling).
SurCo eCRM can help cut down email handling as the system automatically assigns contact information such as emails, faxes, call notes and documents to your client records, so you don't have to.
Using the drag and drop functionality enables you to set a task to action an email within the calendar ensuring you only deal with that email when necessary rather than having to take action on it there and then. Reminders can be sent via the screen, to your email or via text so no matter where you are you're then able to respond at a more suitable time.
This also gives you the ability to prioritise emails without even having to open them because they're automatically assigned to a specific contact and company so you know at a glance how rapidly you'll need to action the message depending on how active that client is. There's also the hover over ability to glean what the message is about without even opening the email.
There are of course other handy ways to ensure you don't experience too much email overload…
Create templates and then save them to your email templates to help save you time on typing a lengthy response every time. You can then just add in a couple of personal touches or even assign that task so someone else in your team to handles it for you.
Email tip: If you can read, reply and send an email in less than 2 minutes then it's worth actioning that one. If it's a longer job than that then it needs assigning to your calendar with a task reminder to do at a more convenient time.
The other time saver which a lot of Managers could benefit from, is the ability to manage reports and tasks via a CRM system.
This saves valuable time of having to attend lengthy meetings because you have every bit of information at your fingertips right inside the CRM platform which you can all access, update and comment on in real time. Call a colleague from the CRM in built calling system and you can both work on the system together rather than going back and forth to meeting rooms.
Set a reminder for you and a colleague to go for a walking meeting. Walking meetings are fast catching on and are a great way for you to brainstorm whilst improving your circulation and wellbeing.
You can access a quality CRM system from anywhere and at any time so there's never any need to spend 30% of your working day trawling through emails. There is a solution to make your work life easier…..