29 Oct

How to ensure your website has an impact

When we were tasked with developing the Morgan Motor Company's website alongside the Morgan design team once again, part of the brief was to do something even more special to highlight the magnificence of this iconic motor car brand.

We wanted to ensure when a website visitor landed on the Morgan website they were able to experience the cars in an almost tangible way and here's why…

Over 50% of internet users take less than 15 seconds to decide if your website is their cup of tea, in a lot of cases it actually takes less than 1 second!

Because people consume so much data in the 21st Century, many have developed a 'quick scan' technique to decipher the information and take action saving time and effort. Internet users are also becoming more visual responders for the very same reasons, so it's also vital to have a visually engaging design.

If you want your website visitors to form a positive opinion about your website from the very millisecond they land on your homepage, it better make an outstanding first impression.

Morgan Motor Company Car Creator Feature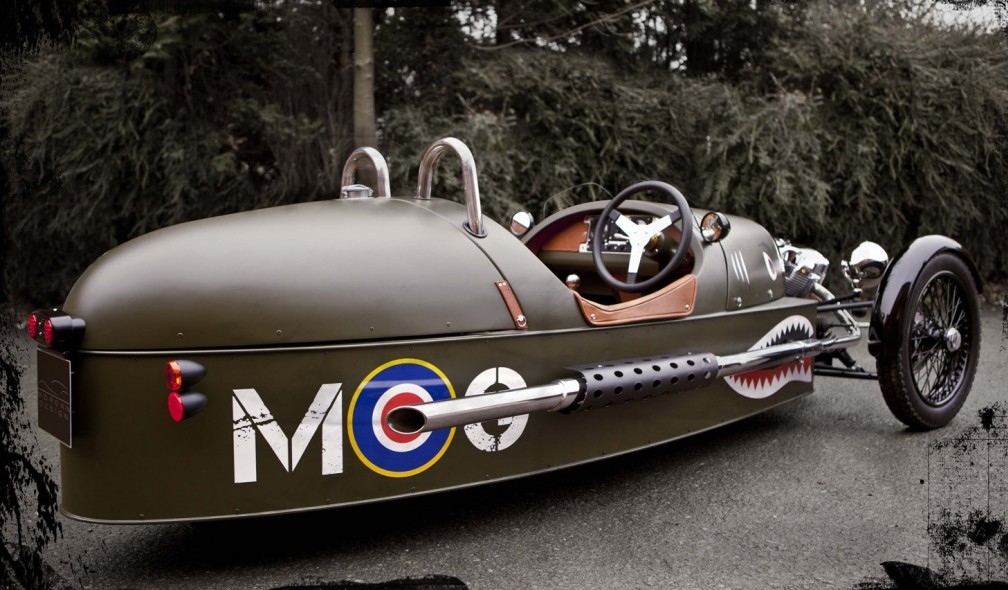 A website with an interactive element creates a greater level of engagement and reduces bounce rate, meaning people 'click off' because they feel they've seen enough and have decided your website, content, product or service is not for them. If you can engage your website visitor, you have the opportunity to make that translate into an increase in sales. 
Ensuring there's a big correlation between the brand and the visual design of the website is extremely important so to create a familiarity. This was so for the Morgan 3 Wheeler website because this brand has been around since 1909, so people know to expect quality and elegance and that's what we wanted the website user to experience when they land on the site.
Eye tracking studies have shown that the most important elements to a website visitor are the logo, menu, search box, images, written content and the website footer. Users spend on average between 5 and 7 seconds on each of these area's.
Website design matters. Over 90% of website visitors are encouraged to remain on the site because of the images they encounter.
If your website has a busy interface, is too confusing, lacks a clear navigation menu, is bogged down by text, has poor quality images, is too slow to load, feels too corporate or lacks the ability to search then you're going to lose your visitor's attention pretty quickly.
Your website obviously needs to appeal to your niche whilst also grabbing the attention of anyone who lands on your website.
Inspiring images and wording is the number one 'sticking point' for ensuring your visitors don't bounce off your website onto another the second they arrive. With the Morgan site we wanted to inspire visitors the same way the cars do and by using iconic images and videos of the car in driving action and displaying Morgan through the ages using a fluid and speedy interface we help the visitor experience the car as if they were sat in one.
Your 'above the fold' (before you have to scroll down) has to be the best part of your website. If you don't grab their attention here, you'll lose it forever! People will and want to scroll down if you capture their attention, trust and imagination the second they land on your site.
We have gone one step further by also developing a Car Creator feature. This is where the visitor gets to create their very own design including elements such as colour, trim, interior and even graphics. This custom design can then be sent directly to one of the sales team to be provided with a quote via their bespoke SurCo Dealer platform which is connected to the website. There is also the ability to share it with friends.
Click the link to create your very own Morgan 3 Wheeler 
This website feature has so far contributed to a 45% increase in online enquiries to the Morgan Motor Company. Website monitoring reports also show us that there has been an increased level of engagement on the site due to ensuring their website includes all of these above mentioned elements, so it really is beneficial to ensure your website makes a good first impression.
If your website isn't getting the attention your brand deserves, you're intrigued by the car creator tool or would like to know more about the SurCo Dealer platform then please get in touch now.