09 Mar

Digital Whiteboard Every Business Needs

Introducing a digital whiteboard every business needs.

If you don't already know about or own a digital whiteboard then you might just want to read about Google's latest business technology because we think this impressive office addition will soon become an office essential now that Google's got in the game.

Of course, the Microsoft Surface Hub digital whiteboard has been around for a while now and the SMART Board even longer, but Google is bringing their own 4K smart screen magic to the table, and with around 5 million businesses worldwide already using Google APPs and products, they've already got a wealth of customers who will no doubt welcome this technology which is set to revolutionise the way we view information and communicate with each other.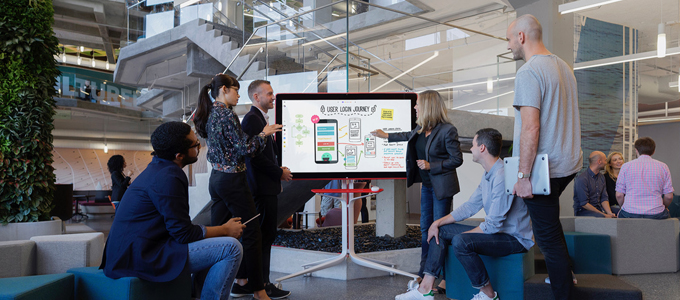 They are rather pricey at present but as with all things tech, that price point will drop and they may even one day become a household item which is even more possible now because well over 1 billion people worldwide use Google and or Android platforms, devices or APPs, making Google a serious contender to become a household technology brand.
Of course Google are already in our lives in so many ways and no more so than their exceptionally powerful search engine but they want more of our attention and it looks like we want the same from them. Their mobile phone seems flawless and their Chromebooks are standing the test of time. They have made some development errors along the way, as all successful companies and brands do but it hasn't held them back from perfecting and developing some of the most exciting technologies of our future in recent years.
News channels have started to use digital whiteboards and they were a key feature in the not too distant US Elections on news channels across the globe because they enable the user to grab content and statistics instantly to show the viewers watching at home. How did they ever report the news without them?
The interactive whiteboard technology has actually been around since the early 1990's but it's really starting to come into its own now the big technology giants are pushing each other to create more interactive, collaborative and mobile versions.
A Digital Whiteboard Every Business Needs
Google have designed the Jamboard to be portable which makes it even more enticing to users. It has a 55 inch screen with 4K resolution which means it's a cinema quality digital display with touchscreen technology. It has beaming capabilities so you can share information between devices instantly and NFC for even greater sharing capabilities. The Jamboard has been programmed to know the difference between the stylus pen touching it and your finger which is pretty epic! It has inbuilt handwriting recognition which automatically translates your writing into editable text.
A star of the conference room, this portable or mountable digital whiteboard can be used for presentations, conferences, brainstorming, designing, multi-input editing which in the long run would help save time and money, and also means there would naturally be more communication and collaboration within so many different working environments.
The collaboration goes so far beyond that, while teams communicate via Google Hangouts, they can draw and type whilst the meeting is in full swing so where ever they are in the world, they too can have their input and get involved.
This level of interactive technology looks set to take the future by storm. It can be used within business, education, training and may even be seen in hospitals, factories, libraries and airports, the sky's the limit really (pun intended).
We don't even know some of the amazing things this new device is going to be capable of because Google are rightly so keeping some things close to their chest!
This is an interesting area which technology is moving into and we are excited to see how it develops and where it leads us all in the future.